---
Current Fight Pit
Start:
10/04/2022 09:00 AM EDT
End:
10/17/2022 04:00 AM EDT
Remaining: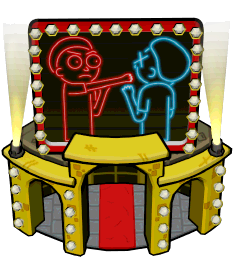 ---
Latest Updates
Game Update v2.27.0
October 25th, 2021
New Features and Improvements:
Swap Stop Open Now! A new way to trade Mortys with friends comes to Mortyland!
Make multiple trades a day with a free rotating trade slot every 24 hours
List trades and browse friend's offers for you perfect Morty deck
View Morty stats before accepting or rejecting a trade
Morty Lock System - You may now lock your Mortys to stop accidentally releasing, trading or evolving them. Phew!
Customer Support Upgrade! - New Zendesk SDK implemented for better support and added a link to our new FAQ page in Settings for quick answers
Multiple backend SDK improvements
Bug Fixes:
Super Nova Party Morty's type has been corrected to Rock
Buffing your evasion will now lower the probability of your own buffs being successful on your own Morty
Game Update v2.26.0
June 17th, 2021
Features and Improvements:
A very special and very SHINY surprise
Bug Fixes:
Fixed an issue with Mr. Meeseeks' name in Brazilian-Portuguese
Fixed issue with description for move Productive Punches
Fixed an issue with the The Watch ads challenge where Mr Meeseeks' name is listed wrong in French
Fixed an issue where a challenge to collect a specific item does not tell the player which item they need to collect
Fixed an issue where a player is told to select other final evolutions on combine screen when none can be selected
Fixed an issue where buffing your evasion will lower the probability of your own buffs being successful on your own Morty
---
About Pocket Mortys
The #1 multi-dimensional grandson fighting simulator in the galaxy is back and better than ever!
You're Rick Sanchez, everyone's favorite unstable genius. You're yelling at Morty in your garage when a Mysterious Rick pops out of a portal and ruins your life. He traps you in an unfamiliar dimension where you discover that Morty collecting and fighting is the hottest new trend in the multiverse! Some more stuff happens and long story short the Council of Ricks takes your portal gun. Now you have to defeat Ricks across the multiverse and collect badges to get it back.
Good thing there are hundreds of versions of your grandson you can capture, train, and evolve! Stack your Morty deck with strong and diverse Mortys and travel dimensions to take down Rick after Rick for your Portal Gun and your freedom.
Insane Morty-based action:
300+ unique and bizarre Mortys. We got Cronenberg Morty, Pickle Morty, Car Morty, and more.
Train, combine, and evolve Mortys to create your perfect Morty Deck.
Battle & trade Mortys with your friends & enemies in multiplayer.
Sustainably sourced Morty sounds.
Let's get these Mortys!
Other non-Morty related stuff to do:
Battle for your freedom across the multiverse in Campaign.
Fight your way through multi-tiered challenges in the Morty games.
Craft items, complete side quests, or make investments to increase your wealth.
Lots of characters and references and whatever from that show you like.
Hours of distraction from your futile existence.