---
Current Fight Pit
Start:
10/04/2022 09:00 AM EDT
End:
10/17/2022 04:00 AM EDT
Remaining: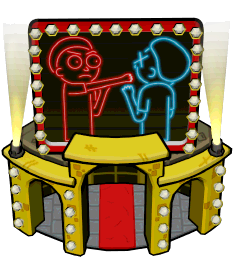 ---
Latest Updates
Game Update v2.27.0
October 25th, 2021
New Features and Improvements:
Swap Stop Open Now! A new way to trade Mortys with friends comes to Mortyland!
Make multiple trades a day with a free rotating trade slot every 24 hours
List trades and browse friend's offers for you perfect Morty deck
View Morty stats before accepting or rejecting a trade
Morty Lock System - You may now lock your Mortys to stop accidentally releasing, trading or evolving them. Phew!
Customer Support Upgrade! - New Zendesk SDK implemented for better support and added a link to our new FAQ page in Settings for quick answers
Multiple backend SDK improvements
Bug Fixes:
Super Nova Party Morty's type has been corrected to Rock
Buffing your evasion will now lower the probability of your own buffs being successful on your own Morty
Game Update v2.26.0
June 17th, 2021
Features and Improvements:
A very special and very SHINY surprise
Bug Fixes:
Fixed an issue with Mr. Meeseeks' name in Brazilian-Portuguese
Fixed issue with description for move Productive Punches
Fixed an issue with the The Watch ads challenge where Mr Meeseeks' name is listed wrong in French
Fixed an issue where a challenge to collect a specific item does not tell the player which item they need to collect
Fixed an issue where a player is told to select other final evolutions on combine screen when none can be selected
Fixed an issue where buffing your evasion will lower the probability of your own buffs being successful on your own Morty
---
Über Pocket Mortys
Lass dich genau wie die Ricks im ganzen Multiversum vom neuesten Trend begeistern: Mortys trainieren! Es gibt da draußen mehr als 70 sonderbare Mortys, die du rekrutieren und trainieren kannst, inkl. Schnurrbart-Morty, Zauber-Morty, Cronenberg-Morty und mehr. Stelle ein Dreamteam zusammen und fordere dann Rick-Rivalen heraus, indem du deine Enkel zwingst, gegeneinander zu kämpfen. Gib deinen Mortys Befehle, kombiniere und stufe sie hoch, um zu beweisen, dass du der beste Morty-Trainer aller Zeiten und aller Universen bist!
Entdecke dutzende über dutzende von bizarren Mortys überall im Multiversum von Rick und Morty.
Trainiere und kombiniere deine Mortys, um sie hochzustufen, und sieh ihnen beim Wachsen zu.
Kämpfe gegen Rick-Rivalen aus dem ganzen Multiversum.
Begegne deinen Lieblingscharakteren, wie dem Vogelmenschen, Mr. Meeseeks und mehr.
Stelle Gegenstände her und begib dich auf mühsame Nebenquests.
Gewinne Preise in der Weltraumspielhalle Blips and Chitz.
Spielfortschritt wird automatisch gespeichert.