---
Current Fight Pit
Start:
02/23/2021 03:00 PM UTC
End:
03/08/2021 09:00 AM UTC
Countdown: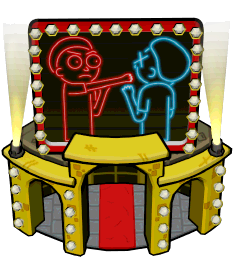 ---
Latest Updates
Game Update v2.21.0
February 2nd, 2020
Features and Improvements:
Scroll Bars in Menus can now be used
Backend privacy and stability improvements
54 bug fixes summarized below
Bug Fixes:
Fixed many issues with unreadable text for Chinese and Japanese users
Fixed issue where users could get stuck on Fight Pit screen
iOS users notification number will now be removed when opening the app
Fixed issues when buying new avatars
Fixes many issues around evolving Mortys
Users no longer lose XP Multiplier after losing a battle against Raid Boss
Fixed problems from moving from MP->SP where game could soft lock
Issue where users could claim a challenge but get no reward if inventory was full
Fixed scaling on Tablet users
Game Update v2.20.0
October 5th, 2020
---
Informazioni su Pocket Mortys
Unisciti ai Rick di tutto il Multiverso e fatti coinvolgere anche tu dalla moda del momento: allenare Morty! Ci sono oltre 70 bizzarri Morty da reclutare e addestrare là fuori, tra cui Morty Baffuto, Morty Mago, Morty Cronenberg e molti altri. Crea il tuo dream team e sfida i Rick rivali costringendo i tuoi nipoti a darsi battaglia! Dirigi, combina e aumenta il livello dei tuoi Morty per dimostrare di essere il più grande allenatore di Morty di tutti i tempi e di tutte le dimensioni!
Scopri decine e decine di bizzarri Morty sparsi per il Multiverso di Rick e Morty.
Addestra e combina i tuoi Morty per aumentare il loro livello e assistere alla loro crescita.
Sfida Rick rivali in tutto il Multiverso.
Incontra i tuoi personaggi preferiti, come l'Uomo Uccello, il sig. Meeseeks e molti altri.
Crea oggetti e prendi parte a noiose missioni secondarie.
Vinci premi alla sala giochi spaziale Blips and Chitz.