After watching enough series and playing the game and watching the details of both I got the answer that "Rick weird" that Evil Rick quoted that looks like the C-137 and Evil Rick would be the Rick protagonist of the Pocket Mortys campaign.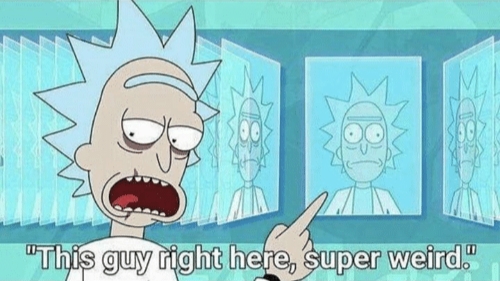 First, Pocket Morty's Rick can not be the C-137, his actions do not match the personality of the C-137 (like doing things like taking orders from the Ricks of the Citadel Council and getting into this wave of capturing mortys and get addicted to doing that)
And over when you meet Evil Rick in the game, and he makes it very clear that "we are very similar" and since we are not the C-137, we can be that weird Rick who was quoted by him in the series.
Evidence that shows how much our game rick is weird is the fact that the game made it clear that our Rick became addicted to the art of capturing Wild Mortys (quoted on Rick Veterano's boards and in the dialogue between Rick and his Morty after defeating the Mysterious Rick where he makes it clear that he wants to get all the wild Mortys)
Well, that's it, it's a short and simple theory though, which explains why Rick Rick quoted Rick was our Rick from the Pocket Mortys campaign.